The life of a homeschool mom can be very draining sometimes. Okay, ALL the time. I love my children, and I love being home with them and taking full responsibility for their education. But sometimes, a mom has just got to get away from it all.
~
Now, let me tell you about my new best friend. My friend is really, really sweet. This friend is the type who always offers comfort when I need it the most. This friend is always there, any time of the night or day. And this friend is never too busy to take me and give me a big, soapy hug! All I have to do is lock the bathroom door, run a tub full of warm water, and pour!
~
My friend's name? You may have already guessed it - it's
Calgon
. Or, "Cal", for short. Cal and I have gotten really close lately. We've been meeting up nearly every day, or every other day at least. Cal doesn't like bright lights, so I always supply the candles. Sometimes we even listen to the radio, or read a book together. Once we even took a little nap. *wink*
~
The other day, after dh got home from work, I told him I was leaving. He said, "huh?!" I said, "Yep. I'm going. Calgon is taking me away!" Of course, I added a sweet, "Could you keep an eye on the kids? I'll be back in 15 minutes, I promise!"
~
Here's a sneak peek at our secret hideout: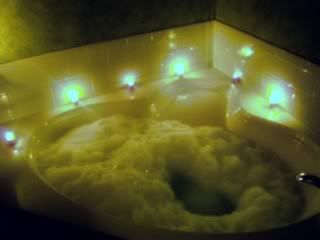 Notice that spot in the middle? Cal saved it just for me! What a great friend! :)